Posted by @gabriellawk In:
PARAMORE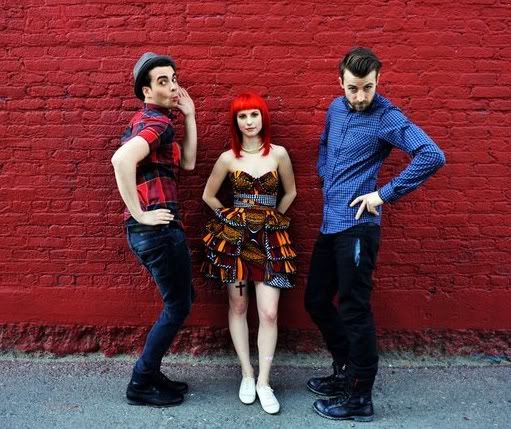 "

Paramore

"
merupakan sebuah grup musik asal Amerika Serikat yang dibentuk pada tahun 2004. Grup musik ini berasal di Franklin, Tennessee. Anggotanya berjumlah 3 orang yaitu Hayley Williams,, Jeremy Davis dan Taylor York. Album pertamanya ialah All We Know Is Failling dirilis pada tahun 2005. Dan album kedua yaitu RIOT! pada tahun 2007. Mereka juga ikut berpartisipasi dalam Soundtrack Album TWILIGHT pada tahun 2008 dengan menyumbang 2 lagu, "Decode" dan "I Caught Myself". Lagu "Decode" menjadi nominasi di MTV movie awards untuk kategori "Best Soundtrack". Mereka juga merilis DVD THE FINAL RIOT! tour pada tahun 2008. Brand New Eyes, album ketiga Paramore's, dirilis pada 29 September 2009. Tanggal 18 Desember 2010 Josh dan Zac resmi meninggalkan PARAMORE.
Pada 3 Juni 2011 Paramore merilis single terbaru mereka Monster yang menjadi OST Transformers: Dark of the Moon. Lagu pertama mereka tanpa Farro bersaudara. Album baru Paramore rencana akan dirilis awal tahun 2012.
~"Paramour" ("secret lover")~
Jeremy Davis ~ ~ Hayley Williams ~ ~ Taylor York
Former members
Jason Bynum ~ John Hembree ~ Hunter Lamb ~ Zac Farro ~ Josh Farro
Discography
Studio albums
All We Know Is Falling (2005
) ==>
Here
/
Mirror
/
FLAC
/
iTunes
Riot! (2007)
==>
Here
/
Riot! Special FLAC
/
iTunes
Brand New Eyes (2009)
==>
Here
/
Mirror 1
/
iTunes
/
FLAC
/
Instrumental
Live Album's
Live In UK ( 2008 )
==>
Here
Final Riot! ( 2008 )
==>
Here
MTV Unplugged ( 2009 )
==>
Here
Piano Tribute
Piano Tribute I
==>
Here
Piano Tribute II
==>
Here
Other Album's
B-Sides Bootleg
==>
Here
Acoustic EP [2008]
==>
Here
The Magnificent Seven Series Strung Out On Paramore
==>
Here
/
Mirror
Piano Collection
==>
Here
Costum Playlist
==>
Here
Acoustic
==>
Here
Summer Tour EP ( 2010 )
==>
Here
The Best (2010)
==>
Here
New Acoustic Songs(2010)
==>
Here
/
Mirror
Unrealesed Demo
==>
Here
The Only Exception EP (2010)
==>
Here
New Single's
Paramore Singles 2011 ==>
IDWS
/
MF
Music Video Collection
Music Video
Paramore Videography ==>
Here
All We Know ==>
Here
Crush Crush Crush ==>
Here
Decode ==>
Here
/
Blue Ray TrueHD 5.1 1080p
Let The Flames Begin ==>
Here
Pressure ==>
Here
That's What You Get ==>
Here
Misery Bussines ==>
Here
Hallelujah ==>
Here
Ignorance ==>
Here
Brick By Boring Brick==>
Here
/
Mirror
/
Mirror
/
Mirror
The Only Exception -
Here
/
Mirror
Careful ==>
Here
/
Mirror
/
Mirror
/
Australian Edition
Playing God ==>
Here
/
Mirror mp4
Monster ( New MV - HD ) ==>
Here
/
Mirror
Live Concert's
MTV Live @ Hard Rock Cafe ( 2007 ) ==>
Here
Live Norwegian Wood ==>
Here
PROVINSSIROCK ( 2008 ) ==>
Here
Live in Anaheim ==>
Here
Live BBC Radio 1 ( 2008 ) ==>
Here
/
Mirror Maknyos
Live @ KROQ ==>
Here
Final Riot...!! -
Here
/
720p MBluRay x264
4Music Favorites Brand New Eyes Special -
Here
MTV Unplugged 2009 ==>
Here
/
Mirror
/
Mirror
LIive @MTV Ulalume Fest ( 2009 ) ==>
Here
Live Taratata (2009) (RS) -
Here
Honda Civic Tour [HD] ==>
Here
Live At BBC Radio's 1 Big Festival ( 2010 ) ==>
Here
/
Mirror
Reading & Leeds Festival ==>
Here
Live at Z100′s Jingle Ball 16-12-2010 ==>
Here
Paramore Live at Fueled By Ramen 15th Anniversary ==>
IDWS
/
MF
/
Youtube
Live Performance's
Paramore - Love's Not A Competition - SOUND - 9th February 2008
That's What You Get (mtvU's Spring Break 2008)
The Only Exception Live @ The Ellen DeGeneres Show
The Only Exception (Acoustic)
The Only Exception (Acoustic NRK)
Ignorance Live T4
Ignorance (The Tonight Show ) HD
Brick By Boring Brick @ Jimmy Fallon
Ignorance Live @ Taratata ( 2009 )
Long Distance Call (Phoenix Cover) Live @ Taratata ( 2009 )
Feeling Sorry - AP Sessions Live
/
Mirror HD
Misery Business + The Only Exception Live Acoustic KISS FM 2010
Misery Business and Pressure Acoustic on KROQ
The Only Exception (VH1 Divas Salute The Troop)
Hayley Williams and The Other's
Bad Romace (cover Lady Gaga)
Behind The Scenes The Only Exception
B.o.B (Feat. Hayley Williams) – Airplanes Official Music Video HD
MTv Cribs with Hayley Williams
B.o.B Feat Hayley Williams - Airplanes (Live at MTV EMA 2010)
/
Mirror HD
Hayley Williams – Airplanes (Paramore Mash Up) [ mp3 ]
Hayley Williams - 2010 Nylon Magazine JunJul720p
Digital Cribs
Neng Hayley MIX
Hayley Williams - Teenagers (Jennifer's Body OST)
Beyond The Video : Playing God